1) Click "Start selling".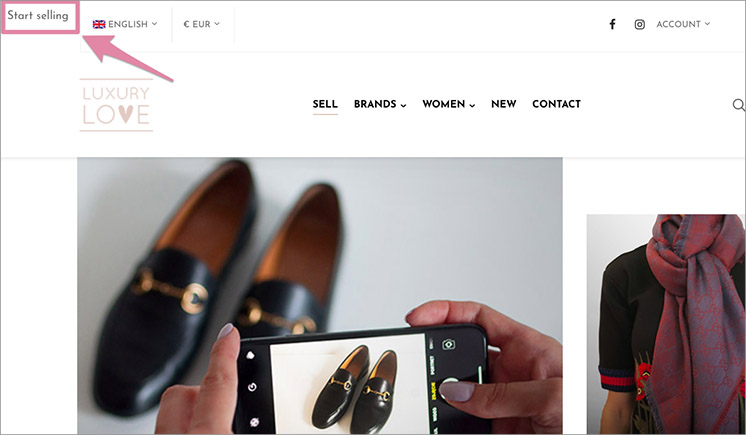 2)  Fill out the registration form. 
3) After registering as a Seller you will be redirected to "Sell product" form - you need to fill in here your item data such as brand, size or condition and send at least 3 photos of your item on a bright, homogenous background. The photos should be taken by you and should show the actual condition of your item. If your item has any flaws please make sure to show them on the photos.  
4) Well done! Now we will verify your product within a few hours (mainly based on the photos we will assess whether the product is original and compatible with the descriptions) and if everything is fine, your product will be published on our page - you will get notification by email.  We may ask you for additional photos or information about the product, if we think it's necessary. We DO NOT accept fakes on our page.   
5) As soon as your product is sold, we will notify you by e-mail and ask you to ship the item to our office for verification. If you're located in Poland you can ship your item at our cost - we will provide a link to order a free pickup by DHL courier. By using a link, you will be able to order the courier for the pickup to your address. Or, if you prefer, you can ship the item at your cost using any preferred courier company. 
Please ship your item as soon as possible, no later than within 3 working days.
6) Then we need to authenticate your product. After the positive verification your product will be shipped to the Buyer and you will receive payment (from your due amount we will deduct our commission on sale which equals to 15%) within 3 working days from the moment of delivery to the Buyer.